Over the last few months we have continued to deliver assemblies and workshops in schools, refined our lesson plans and presentations that go with the videos in our education resources and have made some other big changes – but more of that later when our new website launches!
Here are some of our highlights
HMP Long Lartin
Billy's Wish recently made a visit to HM Prison Long Lartin.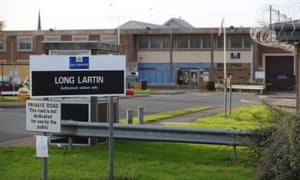 We accepted an invitation from the prison staff to talk to the men about what we do as a charity and for members of Billy's family to share the impact of Billy's death with their personal statements.
HMP Long Lartin is a Category A, high security, men's prison in Worcestershire. As you might imagine even being a room with these people was tough, let alone speaking in front of them. It required enormous strength from Sally, Devon and Jade – Billy's aunt and cousins – and this was recognised by the men themselves who praised and thanked them for coming in.
In between the morning and afternoon presentations, we spoke with the prisoner governor and had a tour of the prison – what an insight to what life is truly like behind bars.
The men were totally engaged in what we were saying and overwhelmingly urged us to carry on with our work in educating children and young people. After we finished, a large group gathered round us – they were very animated, reiterating their encouragement to us to carry on and wanted to help us if they could. We have already been able to share some of what they said in schools.
This was an emotional day. We have all taken away a lot to think about from this visit, and we know opinions and preconceptions were challenged and changed on both sides. We will add more details over time, but it was summed up very well in this report, submitted to the prison governors, by the prison officer who had facilitated the day. Please read it!
HMP Long Lartin Billy's Wish Educational Talk Report
Crucial Crew
Crucial Crew is programme of safety workshops for Year 6 Children. Through experiential education in realistic scenarios they aim to:
Increase awareness of safety and develop key life skills
Encourage visitors to develop personal confidence and to think for themselves
Promote teamwork and shared values
Encourage safer, healthier and more active lifestyles
This half term, we spent two weeks in Stevenage (see below) and one week in Hemel Hempstead.
Each talk lasts 10 minutes but because the group size is small, the impact is big.
George Street School
In May we were contacted by the Year 6 teacher at George Street Primary School. The children had been to Crucial Crew in September 2018, they were struck by Billy's story and our anti-knife crime message.
Unknown to us, they had been fundraising all year with a number of exciting and fun projects and wanted to give us a donation of £500. We are blown away by this – I was quite overwhelmed when I went in to deliver a longer workshop and receive the cheque. Obviously we need money to keep going, but having spent so much time and energy supporting our cause means this cohort will not forget Billy – which in turn will help to keep them safe by making the good choices we talk about.
Billy's Wish would like to wish Year 6 leavers at George Street Primary School a wonderful time in your new schools – you have a great future ahead of you!

Hemel Hempstead School Fete
In July we went to HHS fete where we spoke to lots of children, adults and families about what we do, and many people signed our anti-weapons pledge.
Parmiters School
We'd like to say a huge thank you to Form 8VGR at Parmiters School!
The class wanted to raise money for a local charity and Adam Mclennan was asked to choose a Charity and nominated Billy's Wish, a cause close to his heart, with knife crime such a big issue for his age group the others all agreed this was a great idea. As well as organising a cake sale, Adam worked with his class to share Billy's story and raise awareness in his school of what Billy's Wish does to educate young people about the danger of knife crime and how to stay safe.
Every time an event like this is organised by young people themselves it lifts us here at Billy's Wish. Every conversation prompted by Billy's story keeps the issue at the front of people's minds and hopefully makes a difference to the choices they make.
The cake sale raised £160! Adam, is pictured below presenting the cheque to Devon – our new Trustee and Billy's cousin – alongside friends from his form, Marcus and Conrad.
Thank you so much!
Thank You – to the Kenny Family
We would like to express huge thanks to the Kenny family who lost their lovely Dad Tom earlier this year. The family asked for donations to Billys Wish on their Dad's passing and raised a staggering £660 for us. We have known the family a lifetime. From all of us at Billys Wish, we can't thank you enough and once again our deepest condolences, Tom was such a lovely man
Art inspired by Billy's Story
We, at Billy's Wish, have been blown away by this artwork and the profound words that the artist wrote to accompany it. It was sent to us by an A level photography student, and we are deeply touched.
"I chose to do this piece of work for my A level photography course because I feel that knife crime is something that everyone needs to talk about. I hoped that the piece would provoke emotion and get people discussing the crime.
The shadow has no identity so could be anyone and knife crime affects so many people.
I started with a cut out of a profile and built the rubbish /newspapers outwards to create a 3D image that would create the shadow. The reason behind using newspapers was that people read the tabloids and discard them – disassociating themselves from the story. Sadly a number of people can't put away the newspaper, they live with the tragedy.
I am sorry for your loss."